Below are the notes from the workshop I ran at NHR Organic Oils today, with instruction on how to make your own completely natural face and body cream, with out any chemicals, emulsifiers or preservatives. Please ask any questions as these are the notes that went with the practical session, but hopefully they will be clear enough for you to re-create your own version of this yummy cream…
Organic Face and Body Cream, Workshop Notes
Introduction
During the workshop we will go through the process together of making your own completely  organic, natural face and body cream, without using any chemicals, emulsifiers or preservatives.
When the cream is ready, and you have your own pot to take away, you can choose to mix in essential oils or not, and if so, you can choose one or a few different essential oils to mix in, and a blend strength that suits its intended use (up to 1% for the face, and up to 5% for the body).  See blend strength chart in my previous blog for more details.
If you decide to make your own cream after the workshop, then you can follow the recipe used, but you may like to vary the ingredients a little according to your skin type, or to get a specific effect.
Just be aware that you need to keep the ratios of different types of products the same -so keep the amount of water, oil, butter and wax products used the same.  There is room for a little variation here, you just need to be aware that if you use more water products, the cream will have a thinner consistency, and if you use more cocoa butter then it will be thicker in consistency, so you can tailor this to your desire too.
The recipe we will use is for a simple cream involving no emulsifier.  Most cosmetic creams will use an emulsifier of some kind -usually emulsifying wax.  This is because to make a cream, you need to mix oil and water together, two substances that don't like to mix with each other.  An emulsifier kind of thickens the two and makes them like each other.  They are made from chemicals, and cannot be natural or organic. So this recipe is a little tricky, as it involves mixing the ingredients carefully so they don't split.  But, it is possible, because basically this is how mayonnaise is made.  You will need to use a fairly good blender, whereas with an emulsifying wax you can usually just whisk the ingredients. The recipe does include beeswax, and this is naturally emulsifying so helps the process.
Ingredients:
Waters (floral waters/ herbal infusions)
200ml Floral water or infusion (or blend of both)
1 tea spoon of vegetable glycerine
Oils (Butters/ Wax)
130ml base/vegetable oil
70g Coconut oil (or a mixture of coconut and cacao and shea butter)
10g beeswax
Optional Extras
Aloe vera gel or Aloe vera water –include this with the water ingredients (50ml aloe, 150 floral water).
5ml vitamin E
1-2ml Essential oil for face creams and 4-8ml for body (see blend strength chart in my blending blog for more details).
About the ingredients:
Waters:
Floral waters
There are 2 versions of floral water, you can use the water that is produced during distillation of an essential oil, or you can use a handmade version, which is spring water mixed with an essential oil, left for a week or 2 and shaken intermittently, and then filtered.  They are similar in action to essential oils but much gentler.
Infusions
An infusion is basically just like making a cup of herbal tea (a proper cup of herbal tea that is not made from a dried up old bag of dust).  You place your choice of herbs in a tea pot (or cup) and pour boiling water over the herbs.  One heaped tea spoon (double the amount if using fresh material rather than dried) to 175ml of water is a standard therapeutic infusion. If using a cup, make sure you cover it to keep the volatile oils from escaping with the steam. Leave to steep for 10 minutes, and strain before use.
Oils:
Base or Vegetable Oils
These are cold pressed from the fruit nut or seed of a plant, for example olive (fruit) almond (nut) or sunflower (seed).  Make sure you use good quality oil that has not been refined, as this will have destroyed many of the nutritious qualities of the oil.
These are some of my favourite base oils to use on the face:
Avocado ~ rich, nourishing, hydrating.
Rosehip ~ one of the best base oils for helping scars to heal.
Apricot ~ gentle
Macadamia ~ rich, nourishing –has a gorgeous strong scent.
Macerated oils
An infused oil is carrier oil that has been 'infused' with the goodness of a herb or flower for example marigold/calendula or St. Johns wort. Generally the plant material is immersed into a carrier oil e.g. olive or almond oil, and either left naturally to heat in the sun over a period of weeks, or heated in a bain-marie over a couple of hours.  The oil absorbs many of the plants properties and the leached plant material is strained out of the oil.
Butters
Again, these have been cold pressed from part of the plant, and include Cocoa, Coconut, Mango, and Shea.  They are solid at room temperature, and bring a creamy effect to the product and have a nourishing effect on the skin, usually high in vitamins and fatty acids.
Beeswax
This is what helps the cream to emulsify, try to find a good quality and trustworthy source.  It is also an emollient, very soothing and protecting.
Vitamin E -optional
This is a great natural preservative.
Essential oils -optional
Essential oils are normally steam distilled from various parts of plants such as flower, leaves, fruit, roots and bark. With citrus oils it is usually just pressed from the peel, and some delicate material will use a solvent to gentle extract the oil.  They have a strong scent to them, so are a lovely way to personalise your blend, but also have very potent healing properties that affect the body on a physical and level as well as the way we feel.  Even though the cream is complete on its own, the essential oils will bring another dimension to the effect.
These are some of my favourite essential oils to use on the face:
Rose ~ hydrating, nourishing and deeply nurturing.
Lavender ~ cleansing, clearing, gentle, antimicrobial (see my blog post on Lavender for more details).
Benzoin ~ protective.
Chamomile (Roman chamomile)~ soothing, calming, delicate, anti-inflammatory, anti-allergy, (see my blog post on chamomile for more details).
Myrrh ~ deeply healing, great for scars.
Mandarin ~ gentle, toning, light.
Geranium ~ balancing, feminine, supports hormones.
Neroli (orange blossom) ~ calming, gentle, soothing.
Equipment
Scales
Bain marie/ double boiler
Measuring jug
A decent blender
Spatula
Pots or containers for finished product -make sure they are cleaned and sterilised by rinsing with some boiling water, and completely dry.
Instructions
Prepare the ingredient first, measure and weigh the amounts so they are ready to add in at the appropriate moment.
Melt all the solid oil base products by gently heating them in a bain marie or double boiler.  Then add the liquid oil products to this, you may need to heat it through a little more, as the cool liquids can cause the mixture to begin solidifying again.
When they are completely melted pour this mixture into a blender and let it cool down for a few minutes.  The melted mixture should become a little opaque in colour, but not to the point that it is beginning to solidify, see it has a buttery appearance:
Put the blender on a low setting and add just a little of the water based products at a time. You will see it become milky in appearance:
and eventually thickens to a cream: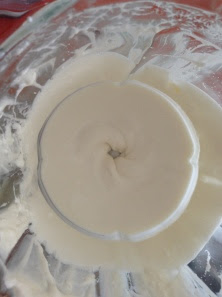 Take your time when adding the water and blending, as adding too much water initially will make it difficult to emulsify and it will be more likely to split.  If the cream splatters up the sides of the blender, use the spatula to get all the mixture in the bottom each time you add more water, so the entire mixture is evenly blended.
If you decide to add Vitamin E and essential oils to the cream, do this at the very end as you do not want to expose them to heat.  Pour the mixture into some little pots or jars.  Ensure they are clean and dry –I usually pour some boiling water into them to sterilize them first and then dry them.  Pour the cream as soon as it's ready, as it will become thicker as it cools, and more difficult to get out.
As in the workshop, you can add essential oils at this point too–if you have several containers and you want to create different blends for each one, then it's ideal.  I find it quite practical to use a chop stick to stir them through.
Shelf Life
Because this cream is very natural and does not contain chemicals or preservatives, it is likely to only last 2-3months.  I would recommend keeping it in a cool dark cupboard or in the fridge if you can.  It will usually only go off if it becomes contaminated somehow.  Make sure you don't use any water from the tap if making an infusion, use spring water.
Using your cream
Having made the cream from scratch, and knowing all the wonderful ingredients that go into it, it can help me to be a little more focused on my skin care routine, to be more appreciative of this time with myself.  It's particularly lovely to massage gently around the jaw, and to take this time to let go of any tension held in this area.  And begin to become more aware of the tension held in other areas in the face –cheeks, eyes!  I also use the cream on my neck across the top of my chest, massaging just under the collar bones which delicately allows me to become more open around the chest area, I can feel the difference in my whole body especially my posture, when I do this. Basically, just enjoy using it on any part of your body : )
Here are some ingredient variations for inspiration when designing your own versions:
Rich, hydrating and nourishing, for dry and mature skin
Rose floral water
Avocado, macadamia
Cocoa, coconut, shea
Rose, frankincense, myrrh
Gentle and soothing, for sensitive skin
Neroli floral water, chamomile infusion
Apricot, camellia oil
Coconut
Neroli, Chamomile, Mandarin
Eczema, delicate itchy and damaged skin
Lavender floral water, chamomile infusion
Evening Primrose, starflower/borage oil
Coconut oil, shea butter
Chamomile, lavender, benzoin
Light and balancing for young, oily, combination skin
Geranium floral water
Grape seed, apricot oil
Coconut oil, shea butter
Geranium, lemon
For more inspiration…
 Sign up for the 'Essential Oils & You' blog ~How to use essential oils to support, care and nurture in everyday life': www.essentialoilsandyou.wordpress.com
Follow 'Essential Oils & You' on Facebook: www.facebook.com/LauraHoyEssentialOilsandYou
& Twitter: www.twitter.com/OilsandYou